SWIFT TRAWLER

SWIFT TRAWLER 30 - The most recent member of the 'long-distance cruiser' family, the Swift Trawler 30 is an excellent balance between style and seaworthiness. The smallest of the Swift Trawlers is a liveabord boat. She has many innovations and beats records when it comes to autonomy.
EXTERIOR DESIGN - The Swift Trawler 30's unreservedly stylish, contemporary and yet protective lines make her very distinctive. Designed for travelling long distances as much as for enjoying anchorages and stopovers, she is nonetheless a very open boat.
Incredibly ingenious, the rear cockpit converts into a spacious terrace over the sea. With a small lounge area and driving station, the flybridge is a completely separate living space.
INTERIOR DESIGN - With added modular fittings and opening, the Swift Trawler 30 has opted for a comfortаble lifestyle, and lots of space and light to create an airy feel. She can be adapted to all crew configurations thanks to the foldaway seats, a convertible sofa, and a well-designed tаble sliding beneath the seats to increase the amount of space in this reception area. She stands out in her category because the one cabin version offers a real shower compartment.
Tootekood:
SWIFT30 ,
Laoseis:
Tellimisel
223200,00 €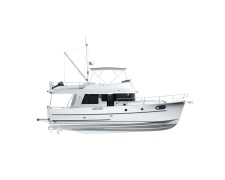 SWIFT TRAWLER 44 - Chic and modern, the Swift Trawler 44 is a distillation of the best this boat has to offer. This "Trawler by Beneteau" is fast and highly seaworthy, designed for ocean cruising. She is at home on all seas and her consistent energy efficiency makes her a world leader in her category.
EXTERIOR DESIGN - The Swift Trawler 44 is the result of a joint collaboration by the Beneteau design office, the architect Michel Joubert and the designer Pierre Frutschi. Underway, her semi-displacement hull offers very enjoyable sensations at all speeds, as well as terrific stability as she breaks through the waves. She is timelessly elegant, combining classic style and great modernity.
INTERIOR DESIGN - Designed to increase the living space, the interior of the Swift Trawler 44 is full of light. Her fittings have a variety of functions and there are a large number of storage spaces. Her cabins look like rooms and in a few steps the convertible sofa turns the saloon into a guest room. The ergonomic helm station and anti-glare windshield enhance safety underway. The Mahogany woodwork adds a classic yet contemporary touch, creating a warm atmosphere.
SWIFT & BALANCED - Whatever thoughts you have on long-distance cruising and whatever the destination, the Swift Trawler 44 is surprisingly versatile. A well-balanced boat, it provides a unique feeling of safety and well-being.
Tootekood:
SWIFT44 ,
Laoseis:
Tellimisel
445080,00 €
SWIFT TRAWLER 50 - Flagship of the range that reinvented the traditional trawler, the 2016 version of the Swift Trawler 50 offers a greater amount of interior space and light. For romantic or family getaways, it appeals to all numbers of crew for its intelligently-designed fittings and very easy handling.
EXTERIOR DESIGN - Resulting from the collaboration of Bénéteau Powerboat, the architect Michel Joubert and the designer Pierre Frutschi, the Swift Trawler 50 boasts a contemporary silhouette emphasized by a very fluid flybridge line, redesigned for this 2016 edition. Her hull is specially designed for IPS engines (2 IPS 600) and this long-distance cruiser combines outstanding stability and manoeuvrability. The high bulwarks surrounding the deck reinforce the safety of movements on board.
INTERIOR DESIGN - Cleverly-designed and pragmatic, the Swift Trawler 50 maximizes autonomy features to enable long-distance cruising. Available with three large double cabins or two double cabins together with an office with an extra berth, it has a magnificent U-shaped galley and is fitted with a washing machine and tumble drier. The finish and choice of contemporary decoration contrast with the Mahogany woodwork ambiance creating an infinitely more elegant interior.
SWIFT & EASY - A boat whose every detail is designed to solve a triple challenge: cruising long distances, in safety and comfortably. For two to eight, on get-away trips, short or long-distance cruises, the Swift Trawler 50 is a boat for ocean adventures.
Tootekood:
SWIFT50 ,
Laoseis:
Tellimisel
765840,00 €