Beneteau Antares 8
Produkta kods :
ANTARES8
Zīmols:
Beneteau
Daudzums:
Nav pieejams
Agile, powerful and very habitable, the Antares 8 oozes character. The ideal boat for exploring new shores, she is wonderful for taking a break for a few days, confident that you are completely safe.
The Antares 8 has a new flared-out hull that delivers wonderful driving sensations, while boasting excellent seakeeping. The dynamic V design of the cap clearly announces the boat's stunning aesthetic design. Its clever deck plan offers three different possible cockpit seat layouts.
| | |
| --- | --- |
| ​CE sertifikācija | C9/D9 |
| Pasažieru skaits | 8 |
| Saldūdens (l) | 100 |
| Svars (kg) | 1985 |
| Korpusa materiāls | Stikla šķiedra |
| Korpusa garums (m) | 6,99 |
| Degvielas tvertne (l) | 280 |
| Platums | 2,79 |
| Maksimālā jauda | 147/200 |
| Motora tips | Piekarināms |
| Garums (m) | 8,23 |
| Iegrime | 0,80 |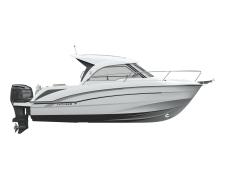 Timeless, the latest Antares 7 has its root in the three values of safety, simplicity and habitability that have been present since the beginning of this range. A reliable boat designed to enjoy short coastal cruises, the Antares 7 can be towed.
The Antares 7's innovative flared-hull boasts safety and outstanding seakeeping, offering wonderful driving sensations. This outboard motorboat has a very elegant silhouette, thanks to her cap's powerful V profile. Simple and safe, an aft platform with a removable ladder provides access to the sea. This is closed off by a small gate when the boat is underway.
Produkta kods :
ANTARES7 ,
Daudzums:
Nav pieejams
31440,00 €
JAUNUMS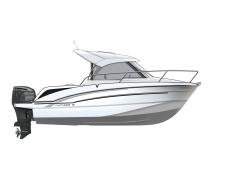 A small pilothouse boat at the top of its game! The profile of the new Antares 6 is both modern and timeless, yet she still has all the features that have made this range a success in the last 40 years. The ideal boat for excursions, fishing trips, and picnic outings, she goes a long way to building boating confidence and making the experience enjoyable.

Built on the latest generation of outboard hulls, this fishing cruiser is incredibly stable and truly a pleasure to drive. With a single engine of up to 115 hp, the Antares 6 is impressively manoeuvrable and makes quick work of getting in and out of harbours.
Produkta kods :
ANTARES6 ,
Daudzums:
Nav pieejams
23808,00 €
JAUNUMS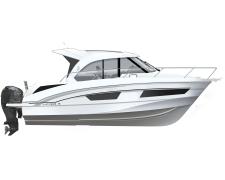 The ultimate weekender! With an innate sense of detail and comfort, the Antares 9 is an invitation to spend more time at sea. Modern and stylish, she preserves the traditional elegance of a established range. Autonomy, habitability, panache – she has everything to make short cruising a great experience.

With her Airstep® hull, the Antares 9 cuts gently through the waves offering a comfortable ride and safe navigation. With U-shaped seats that convert to sunbathing areas, her attractive spacious cockpit (1.53 x 2.40 m) is a great place to relax with friends. With up to 2 x 200 hp power, the Antares 9 has the latest technological developments in terms of outboard engines.
Produkta kods :
ANTARES9 ,
Daudzums:
Nav pieejams
73332,00 €