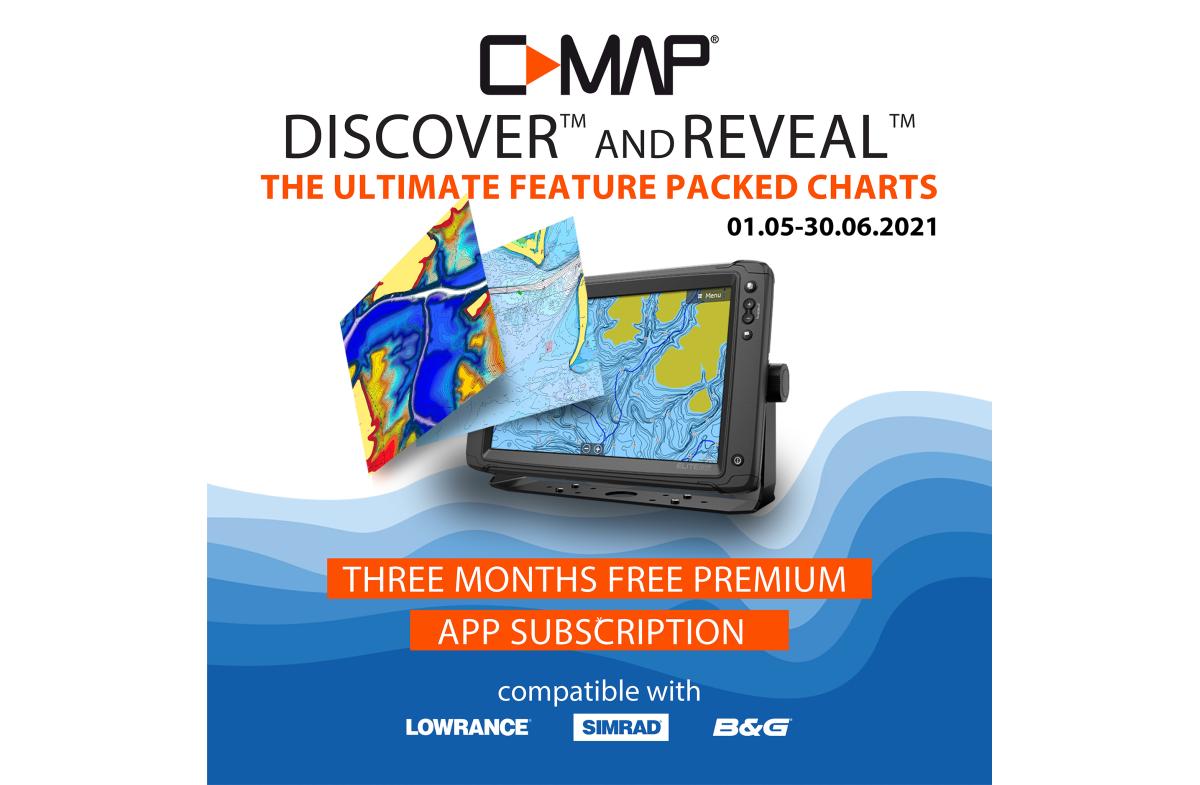 FREE 3 month 'premium' subscription to the C-MAP: Boating App with every purchase of a DISCOVER or REVEAL chart
Terms & Conditions
With every purchase of a C-MAP DISCOVER or REVEAL Chart consumers receive a 3 month Premium C-MAP App subscription for FREE
1. This offer is only available to consumers who purchase a C-MAP DISCOVER or REVEAL chart (see qualifying SKU list), from participating official dealers/retailers within EMEA. Purchases made in other areas are not eligible to receive this offer, even if the end-user is a resident in Europe, Middle East or Africa
2. The campaign will run from 1 st May – 30th June 2021 - all claims must be received by 15th June 2021
3. The 3 month FREE Premium App subscription is only available on the purchase of qualifying C-MAP charts. Products that are purchased through on-line auction sites are not eligible for this promotion
4. The 3 month FREE Premium App subscription is only available on qualifying part numbers/ SKU's that form part of this offer, per the full Terms & Conditions
5. This offer cannot be combined with any other offer or promotion
6. You acknowledge that your participation in this offer imposes no liability on Navico other than to rebate qualifying customers. In particular, Navico is not liable for any consequential damages 7. In order to qualify the consumer must upload proof of purchase to the Navico offers portal including: receipt of sale, showing details of products purchased
8. We will aim to process consumer claims within 2 weeks of approval
9. By claiming the 3 month FREE Premium App subscription consumers are deemed to have read and accepted these terms and conditions
10. Direct claims will not be accepted from Boat Builders, Distributors, Charter Companies and Navico staff
11. Navico reserves the right to decline any applications that do not meet our terms and conditions
12. Navico reserves the right to withdraw the offer at any time
13. Already claimed product(s) from previous promotions cannot be claimed for again
14. All claims must be received on or before the 15th June 2021. Any claims made after this date, whether valid or not, will not be accepted.