SWIFT TRAWLER

UUS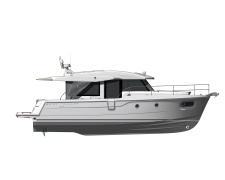 SWIFT TRAWLER 41 Sedan: A generous passagemaker, the Swift Trawler 41 successfully renews the spirit and style of the trawler range. Ample living space, comfortable and practical, this new innovative 40-foot powerboat, available and both Fly and Sedan versions, has an on-board capacity of up to 7 passengers. What an accomplishment! Her stylish, modern, aggressive look reflects the Swift Trawler line renewal, marked by the launch of the Swift Trawler 47. The Swift Trawler 41 has a fluid and balanced profile, emphasized by a slender flared out hull, which means she cuts perfectly through the sea. Her wheelhouse offers a strikingly generous glazed space, while the fore deck, with its large sun pad and a high protective pulpit make this long-distance cruiser even more distinctive
SKU:
SWIFT41S ,
Qty:
Not available
516516,00 €
UUS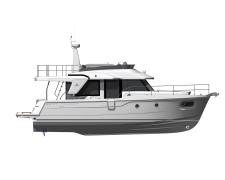 SWIFT TRAWLER 41 Fly: A generous passagemaker, the Swift Trawler 41 successfully renews the spirit and style of the trawler range. Ample living space, comfortable and practical, this new innovative 40-foot powerboat, available and both Fly and Sedan versions, has an on-board capacity of up to 7 passengers. Her stylish, modern, aggressive look reflects the Swift Trawler line renewal, marked by the launch of the Swift Trawler 47. The Swift Trawler 41 has a fluid and balanced profile, emphasized by a slender flared out hull, which means she cuts perfectly through the sea. Her wheelhouse offers a strikingly generous glazed space, while the fore deck, with its large sun pad and a high protective pulpit make this long-distance cruiser even more distinctive.
SKU:
SWIFT41FLY ,
Qty:
Not available
562584,00 €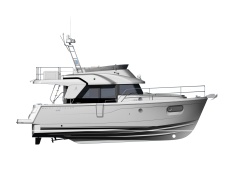 The Swift Trawler 35 has strong harmonious lines making you feel reassuringly safe, and this quality is repeated in the design and fit out choices. Built on a semi-planing hull developed through the expertise of Beneteau Power, the Swift Trawler 35 has a Cummins 425 hp engine, and together they procure pleasure underway and offer easy manoeuvring. Protected by either a Bimini or a soft top, the Swift Trawler 35´s flybridge has a comfortаble living space with a sea view.
Intended for long cruises, the Swift Trawler 35 offers a spacious interior with ingenious contemporary fittings. The entirely glazed wheelhouse affords a 360° view and creates a pleasant atmosphere. You enter the owner cabin with en-suite shower room and a second cabin with bunk berths, by a gullwing door. There is plenty of space for guests on the Swift Trawler 35. Fitted with a twin sink that converts to a worktop and an extra forward-facing seat, the U-shaped galley offers a convivial living space on board. The sofa-bed in the saloon converts to a comfortаble double berth. The teak wood matching the wonderfully easy to clean Efficiency© upholstery creates a cosy atmosphere indoors.
Enjoy a completely different cruise experience.
SKU:
SWIFT35 ,
Qty:
Not available
376596,00 €