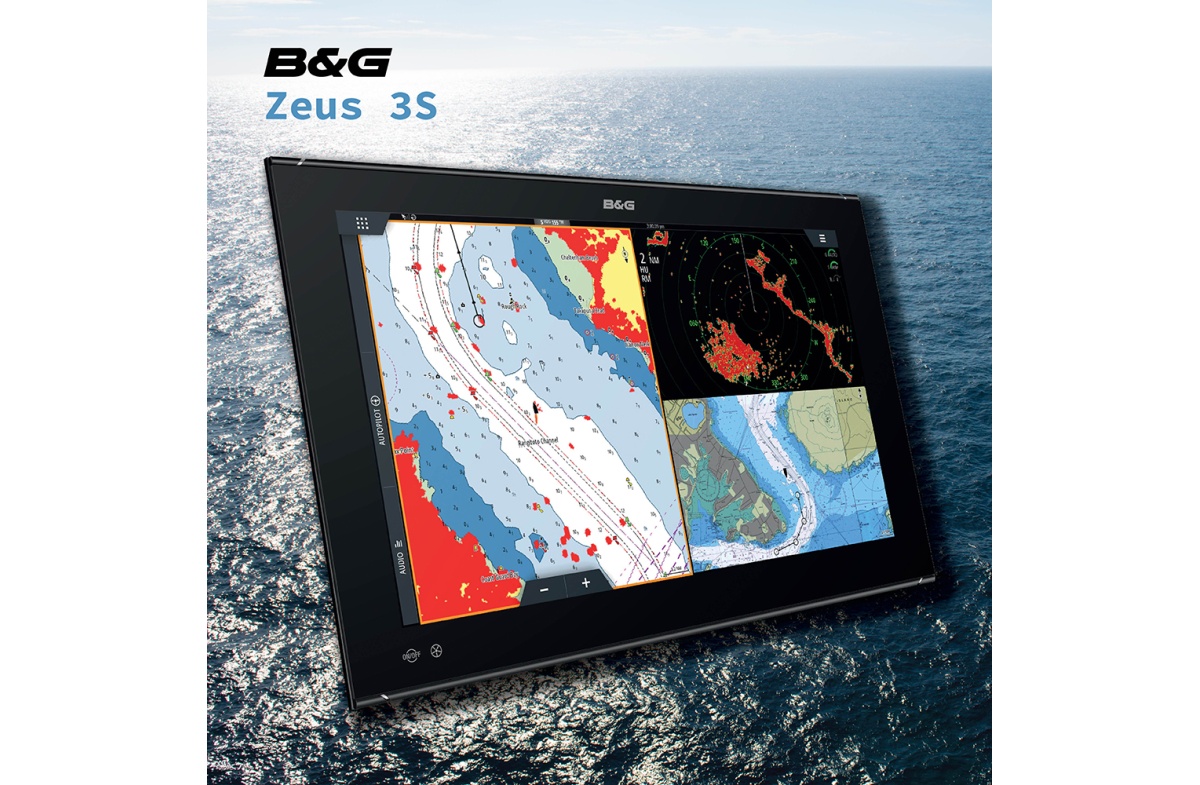 New Zeus3S Glass Helm multifunction display system is offering unbeatable speed and performance for large yachts.
Zeus3S Glass Helm is B&G's premium larger boat MFD solution
• The fastest/ most responsive B&G System yet
• Large Wide Format Touchscreen Displays (16"/19"/24)" - all in Full HD 1920x1080
• Best in class visibility from all angles with and without polarised glasses
• Connects to B&G's performance network modules for the ultimate offshore performance: Halo Radar, Autopilot, Forward Scan™, NMEA 2000 and 0183, Integrated Pilot Control
• Full suite of sailing features: Sailsteer, PredictWind, RacePanel, Laylines and SailingTime
• Extended visibility with six-panel split screen option
• Built in Wi-Fi, HDMI and Video Inputs
Available in 24-, 19- and 16-inch models, Zeus3S Glass Helm can be purchased as a system pack or in display-only packs. System packs include a display, GPS, keypad and accessories.
Supreme sailing performance
The new Zeus3S Glass Helm display has twice the previous versions' performance, which delivers category leading response times for incredibly smooth transitions and giving instant access to the sailing and system information needed, no matter the conditions, all thanks to the new iMX 8 integrated six-core processor. Create custom helm layouts to suit any activity, and switch seamlessly between layouts in an instant. Low-profile glass helm styling conceals and protects the powerful core, and complements any helm design from ultra-modern to timeless classic.
Ultimate Clarity with Intuitive Touchscreen Control
Zeus3S Glass Helm provides the ultimate view of sailing and system data with Full High Definition displays designed for larger sailing yachts. The ultra-bright 24, 19 or 16-inch displays are ideal for both indoor and outdoor installations. Wide viewing angles keep the screen visible, even with polarised sunglasses. The improved processor speed enables the option to seamlessly combine up to six panels in a split-screen layout without delays. Navigate charts and use sailing features such as RacePanel and SailSteer, whilst also viewing all connected systems, such as autopilot, radar and sonar, with a single touch.
Fully Connected
The Zeus3S GlassHelm System Pack contains everything required to build a glass-helm system, including a ZC2 Remote Controller. The Remote Controller provides keypad control of up to six displays, perfect for a multi-display helm layout. Wired Ethernet, NMEA 2000®, and J1 939 networking provide almost limitless integration options, from vessel- wide display systems to radar, sonar, engine integration, and much more.
000-15129-001 ZEU53SGLASS HELM 16 " SYSTEM PACK
000-15048-001 ZEUSSGLASS HELM 16 " DISPLAY ONLY
000-15130-001 ZEUSSGLASS HELM 19 " SYSTEM PACK
000-15050-001 ZEUSSGLASS HELM 19 " DISPLAY ONLY
000-15131-001 ZEUSSGLASS HELM 24" SYSTEM PACK
000-15052-001 ZEUSSGLASS HELM 24" DISPLAY ONLY
For more information please contact us: marine@marine.ee