PIONER 12 Maxi w/rear seat box
LAOS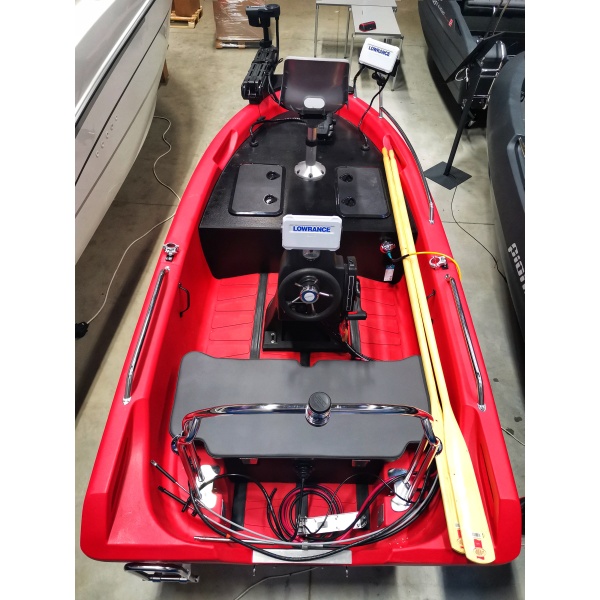 Zoom
Laopaat

Hind sisaldab:
Aerud
Tagumine iste/panipaik
Konsool roolisüsteemiga
Ujumisredel
Reeling vööris
A-raam koos navigatsioonituledega
Reeling ahtris
Istmepadjad
Kinnitusplaat mootorile
Mootor: Mercury F15 EFI
Trolling mootori MotorGuide Xi3-55W 48´´12VDC GPS
Trolling mootori elektripaigaldus koos laadijaga AGM 140Ah + 55Ah Päramootori tarvis
Vöörimootori kaldavoolu laadimise kaabel
Plotteri valmidus vööris
Kalastusiste vööritekil
Elite FS 7 Active Imaging 3-in-1 anduriga konsoolis


SOLID SECURITY FOR THE FUTURE
The new Pioner 12 Maxi is a modern and secure multipurpose boat. It is self-draining, easy planing, very solid and stable. Pioner is the market leader in rotational moulding, and has taken this moulding process to new heights with the new Pioner 12 Maxi. With its double hull, the boat is extremely safe and full contact between the deck and hull makes the boat stiffer and more robust.

The boat seats three or four people, and the high freeboard ensures everyone will have a comfortable and dry boat trip. The longitudinal thwart is designed for the best possible rowing.
| | |
| --- | --- |
| CE sertifikaat | D |
| Inimesi | 4 |
| Kaal (kg) | 160 |
| Laius (m) | 1,65 |
| Maksimaalne võimsus | 15 |
| Mootori tüüp | Päramootor |
| Pikkus (m) | 3,81 |